The Scenic Regional Library Foundation is a 501(c)3 non-profit organization and serves as a parent organization for the library's Friends of the Library groups.
The Foundation is selling donor wall "books", which will be placed in the entrance hallway of each new branch library. Click here for more information.

Visit the library's online store and purchase socks, t-shirts, mugs, bookmarks, and other merchandise. You can have the merchandise shipped to your local branch for free to pick up, or pay to have it shipped directly to your home. The merchandise can also be purchased at any Scenic Regional branch. All proceeds go toward improving the library's programming and other services.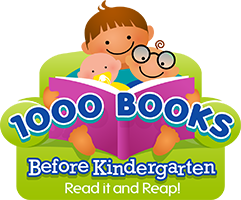 Reading to your child builds language and literacy skills that last a lifetime. It also offers a chance for you to bond with your little one. To help get your child ready for school and ready to read, join us in reading 1000 Books Before Kindergarten!

Anti-Racism Resources: The library has compiled a list of books, movies, and other resources for patrons of all ages who are seeking information on racism and social justice issues. The library hopes the collection will help people learn about racism, facilitate conversations about race, and help parents raise anti-racist children.

Kanopy is an on-demand streaming service with a collection of more than 30,000 films, including feature films, documentaries, foreign language films, kids' movies, kids' TV shows, classes from the Great Courses, and training videos. Kanopy Kids includes the Sesame Street catalog and animated versions of popular storybooks.
Like us on Facebook to see what's happening at your library!
Check out what's new at the library!
Adult Fiction
Adult Nonfiction
Youth Titles
Movies & Music
Audio Books
Large Print