In June of 1957, the Missouri State Library ran a demonstration library in Franklin, Gasconade and Warren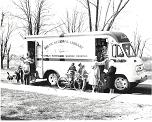 counties. The effort resulted in bookmobile services which provided library materials to the rural communities. In May of 1958, the Franklin County Library District was formed, and in April of 1959 the Gasconade and Warren County Library Districts were formed, all by voter approval, operating through a one mill tax. May 20, 1959 marked the formation of what is now Scenic Regional Library when board members from the three county library districts signed an agreement to consolidate library services. This allowed the library to share costs and materials with all residents of the three counties. The regional system originally included four non-tax supported libraries, which are now branches in Union, St. Clair, Owensville and New Haven. The library's central branch has historically been in Union, first at what was once Union Public Library in the Municipal Auditorium and in the L'Ouverture school

building, then at 11 S. Washington Avenue, and currently at 308 Hawthorne Drive. The independent municipal libraries of Pacific and Warrenton joined the regional system later in 1959 and Hermann Public Library merged in 1972. The additional libraries added local flavor to the regional library collection, providing citizens an opportunity to browse through more books and check out a greater variety of titles. Scenic Regional Library has provided over fifty years of access to books, audio visual materials, magazines, preschool story times and other programs to all residents in the tri-county area. It was founded to promote literacy and education, thus improving the communities it served. Thanks to its supporters, Scenic Regional Library will continue to promote access to information, entertainment and lifelong learning.
Today, Scenic Regional Library is still comprised of three county library districts that are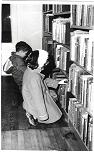 political subdivisions (Franklin County Library District, Gasconade County Library District and Warren County Library District). An executive board of directors governs the regional library system. Subsequently, each county library district is governed by a board of directors. The regional library system is supported by property tax dollars from each county, in addition to funding from the State of Missouri. For a library system of its size, and its population served, its tax dollars collected are conservative, remaining below the 1995 standards set by the Missouri State Library which recommends a 15 cent minimum for public libraries. Overall, Scenic Regional Library's county tax levies remain among the lowest in the state. Scenic Regional Library provides the maximum amount of services possible with its resources. Thank you for your support and please visit us often!