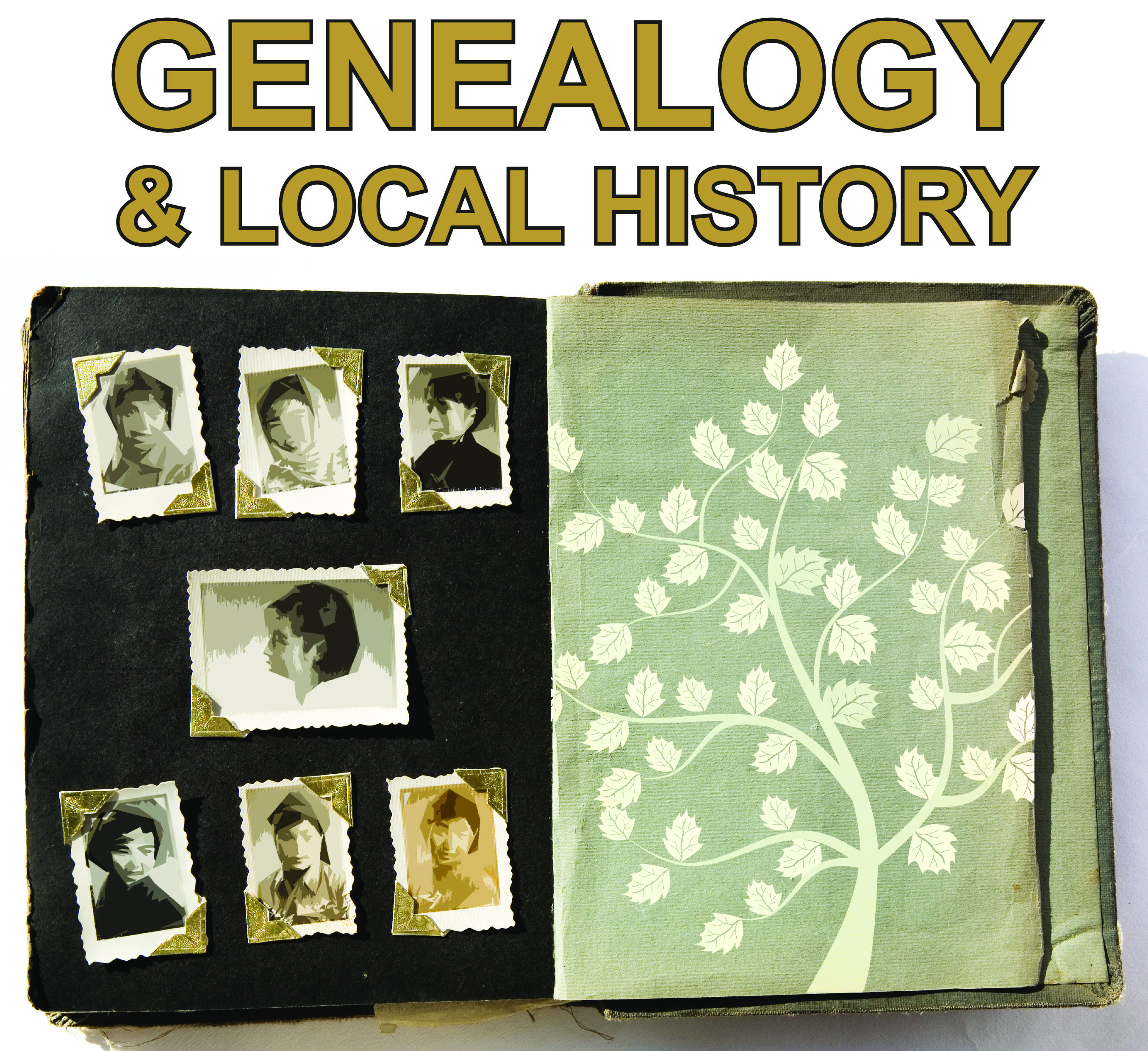 Available Resources
Are you searching for information about your family tree? Do you need information on local history and genealogy? Then be sure to browse through our collection of Missouriana and genealogy resources. Scenic Regional Library has a wealth of information for local history buffs, students, and for those doing genealogy research.
Upcoming Classes:
There are no programs scheduled at this time. Check back often!
Newspaper articles and other historical information are kept on microfilm at the library. You may view what microfilm your specific branch has by clicking its name: Hermann, New Haven, Owensville, Pacific, Union, and Warrenton. Please note that St. Clair's microfilm collection is housed at the Union location.

We also subscribe to Ancestry Library, a qualified genealogy resource which is accessible from within the library.
Fold3 is also accessible from within the library and provides convenient access to U.S. military records, including the stories, photos, and personal documents of the men and women who served. Original records at Fold3 help you discover and share stories about these everyday heroes, forgotten soldiers, and the families that supported them. Fold3's social networking aspect allows you to combine original historical documents and records found on the site with what you have in your own albums and shoeboxes to create an online memorial for someone who served.
Or, take a look at Heritage Quest from your home computer, using your library card to access thousands of census records and more.
Newspapers.com – Missouri Collection allows you to find historical newspapers from communities around Missouri. Explore newspaper articles and clippings for help with genealogy, history and other research.
Useful Links
Franklin County probate file packets are available on microfilm at the Four Rivers Genealogical Society.
Missouri Digital Heritage is a collaborative effort that dramatically expands the amount of information available online about Missouri's past. The Quick Links provide Missouri Death Certificates, 1910-1971, and a Missouri Birth & Death Records Database, Pre-1910.

Microfilm
Name
Date range(s)
Name
Date range(s)
Federal Census
1820-1930

Missing 1880-1900

Missouri Confederate Amnesty Papers
1865-1867
Franklin County Census
1876
Record of Appointment
1832-1971
Franklin County Circuit Court Records
March 1819-1956
Special Census of Union
1890
Franklin County Deed Records
1819-1969 Deed of Trust: 1962-1969

Missing Deed of Trust book 142 (1969?)

St. Clair Chronicle
March 1927-May 1985
Franklin County Military Registrants
Dec 1869-April 1974
St. Clair Missourian
Jan 1999-Dec 2004 Missing June 2002 and Aug 2004
Franklin County Record
Sept 1874-Nov 1890
St. John's UCC Church
1875-1936
Franklin County Records
Abstract Index to Deeds: 1870-1887

Deeds: 1819-1883 Missing 1876-1884

Index to Marriage: 1819-1914

Probate: 1868-1892

Probate-Administrator Bonds: 1836-1911

Probate-Administrator Letters: 1869-1872

Probate-Inventory, Appraisement and Sale Bill: 1856-1872

The Sullivan News/Tri-County News
July 1901-May 1985 Missing Jan 1955-Dec 1956 (Tri-County News)
Franklin County Tribune and Tribune Republic
June 1887-Dec 1977
Union Missourian
Jan 1997-Dec 2007 Missing 2006
Gerald, MO
1969-1988
Washington Citizen
Dec 1907-Aug 1984
Independent News
Jan 1985-Dec 1998
Washington Missourian
May 1939-May 2011 Missing 1968, 1997-2003
Leslie United Methodist Church
1841-1875, 1842-1863, 1873-1899, 1918-1929, 1933-196?
Wills
1819-1926
Name
Date range(s)
Name
Date range(s)
Bland Courier
May 6, 1904-Dec 30, 1910

Missing 1911-1912

Jan 3, 1913-Mar 31, 1916

Apr 7, May 19, June 2, 1916 and Sept 2, 1921 (one reel)

Jan 6, 1911-Dec 20, 1912 and Jan 5, 1923-Dec 19, 1924 (one reel)

Jan 5, 1917-Dec 27, 1918

Sept 9, 1921-Dec 22, 1922

Missing 1925

Mar 26, 1926-Dec 28, 1939

Missing 1940-1942

Jan 7, 1943-June 27, 1946

Missing 1947-1962

Jan 3, 1963-Sept 28, 2011 (numerous reels)

Gasconade Republican
Oct 22, 1899-June 3, 1897

April 25, 1902-June 27, 1902

Jan 2, 1903-Nov 10, 1905

Dec 27, 1907-Dec 31, 1909

Nov 17, 1905-Dec 30, 1910

Jan 6, 1911-Dec 27, 1912

Missing 1913

Jan 1, 1915-Sept 13, 1918

Sept 20, 1918-Oct 9, 1925

Jan 3, 1919-Dec 29, 1925

Oct 16, 1925-Dec 30, 1998

Missing 1999-2002

Jan 1, 2003-Oct 26, 2011

Census (Gasconade, Franklin, and others)
1840

1850

1860

1870

1880

1909

1910

Special Census of Union Veterans and Widows of Union Veterans of the Civil War (includes Gasconade, Franklin, and 18 other counties)
1890
Name
Date range(s)
Name
Date range(s)
New Haven Leader
1903-1952

Missing 1953-1956

1957-1998

Federal Census
1830-1930

Missing 1890
Name
Date range(s)
Name
Date range(s)
Census
1830-1930
Our County Newspaper
1882-1887
Meramac Valley Transcript Newspaper
1895-1995
Tri-County Newspaper
1997-1998

2001-2004
| | | | |
| --- | --- | --- | --- |
| Name | Date range(s) | Name | Date range(s) |
| Census | 13 rolls, 2 rolls for 1830 and 1880 | Hermann Advertiser Courier | 1875-July 2011 |
| City of Hermann | 17 rolls | Hermann Volksblatt (in German) | 1899-April 1928 |
| Deeds | 10 rolls | Marriage | 4 rolls |
| Gasconade County | 10 rolls | Probate | 3 rolls |
| Gasconade County Letters | 1 roll | Wills | 3 rolls |
| Gasconade County/Richland Township | 1 roll | | |
| | | | |
| --- | --- | --- | --- |
| Name | Date range(s) | Name | Date range(s) |
| Federal Population Census Records for Warren County | 1840-1930 | Warren County Guardians and Curators Settlements | (on order) |
| Immanuel United Church of Christ (Wright City, MO) | 1896-1987 | Warren County Probate Records | (on order) |
| Immanuel United Church of Christ (Wright City, MO) Indian Camp Cemetary | 1892-1949 | Warren County Record (formerly The Marthasville Record) | Jan. 2007-Oct. 2011 |
| The Marthasville News | Dec. 1896-Dec.1897 | Warren County Vital Records | (on order) |
| The Marthasville Record | Mar. 1901-Dec. 2006 | The Warrenton Banner | Aug. 1902-Jun. 1995 |
| Warren County Administrators Settlements Records | (on order) | The Warrenton Herald | Sept. 1898-Nov. 1905 |
| Warren County Circuit Court Records | (on order) | The Warrenton Journal | Jan. 1996-Dec. 1998 |
| Warren County Deed Records | (on order) | | |