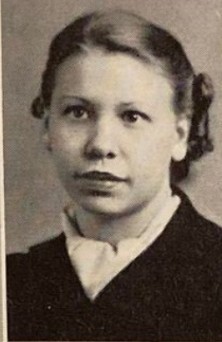 Mary Esther Gilman was born February 4, 1916, in Greenwood County, Kansas, to Zeeb Charles and Hattie Clift Johnston Gilman. She graduated from Emporia State Teachers' College, where she was a member of the Omega Literary Society and President of the Library Club, in 1938.
After college, she was a teacher. Then, served as the Iola (KS) High School librarian (1943-1947). She was also an active member of the Business and Professional Women's Club in Iola.
In December 1947, she was named the librarian, and assisted in the formation, of the Lawrence County Library in Mt. Vernon, Missouri. During that time, she was member of an informal group of 10-13 county library directors who met regularly on Sundays in Jefferson City with the Missouri State Librarian to discuss library work. After leaving Lawrence County, she served as the director of the Dunklin County Library from January 1953 to 1957.
In Ms. Gilman's early career, she worked in children's services and often taped her children's storytime for other staff members to play during their programs. She wrote a weekly column and articles in local newspapers promoting more than just books but the other services available at the library. Ms. Gilman also appeared on local radio stations to promote library services.
In 1957, the Board of Trustees of the existing library in Warrensburg approved a merger with the Johnson County Library. A contract was signed between the Johnson County Library Board and the Lafayette County Library to form a regional library with the name "Trails Regional Library." Ms. Gilman was hired as the new library's first director.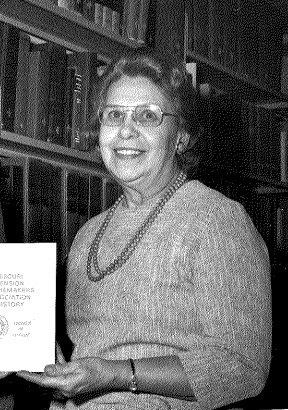 Ms. Gilman was a big proponent of interlibrary cooperation. Under her direction, the library immediately joined the Southwest Missouri Libraries Services for book processing and the Missouri Libraries Film Cooperative in 1958. Reciprocal borrowing agreements were signed with Jackson and Cass County libraries in 1962.
Over the next decade, Ms. Gilman orchestrated the annexation of nearly every existing municipal library within the two-county district, including Corder (1958), Waverly (1958), Lexington (1959), Concordia (1959), and Odessa (1965). A branch was also opened in Knob Noster in 1971.
In the mid-1960's, when the Boonslick Regional Library's director position became vacant, Ms. Gilman served as the interim director, operating both regional library systems simultaneously. The Missouri State Library even conducted a study to determine whether the two systems should be merged.
During her time at Trails Regional, Ms. Gilman created innovative in-service training for non-professional staff. She would later write articles about the training. Ms. Gilman also continued with the publicity efforts from earlier in her career, making radio appearances, as well as writing articles and newspaper columns.
Ms. Gilman successfully campaigned to double the library's tax levy from 10 to 20 cents in 1968. In 1975, she managed the library's purchase and renovation of a new and larger facility for its administrative offices and main branch in Warrensburg.
Throughout her career, Ms. Gilman was a leader in the Missouri Library Association. She served on the County and Regional Libraries Committee, Library Development Committee, and numerous other committees. She also served as president of the Public Library Division.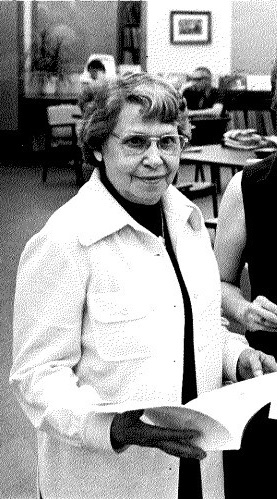 Ms. Gilman's involvement as a leader in the library community were not limited to the Missouri Library Association. She was appointed by the Missouri State Library to serve on an advisory board to plan for projects under the Library Services Act, served as president of the Kansas City Metropolitan Library Network Council, and was a member of the advisory committee Coordinating Board of Higher Education.
In 1980, Ms. Gilman successfully lobbied the Board of Trustees and County Commissions for approval to consolidate the Johnson and Lafayette County Libraries under Missouri's new consolidated library law. Trails Regional Library was Missouri's fourth regional library to consolidate.
When Ms. Gilman was hired as director at Trails Regional Library in 1957, the system had two part-time employees, 2,000 to 3,000 books, and one service outlet in Warrensburg. In 1982, upon her retirement, the library system had 33 full-time employees, 165,000 books, and seven branches. She was known as an excellent planner, organizer, and administrator. A former library trustee described her as a miracle worker when it came to handling the library's budget, saying that she could "stretch a dollar to unbelievable lengths."
She retired on April 1, 1982, after a career that spanned 43 years. Mary Esther Gilman died on December 24, 2000, in Warrensburg, Missouri. Memorials were to be made to Trails Regional Library.